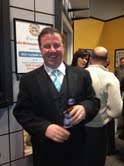 Steve Londregan is the owner of Chuck's Steakhouse and Maragarita Grill in Auburn, and President Ex-Officio of the Auburn Chamber of Commerce.
What's one of your favorite things about Working or Living in Auburn?
I've worked in Auburn for 43 years and lived in Auburn for 20 years. It's got a great small town feel with plenty of big city amenities and great proximity to major routes to get you anywhere.
What is something that people would be surprised to learn about you?
I've worked for Chuck's since I was 16 years old for a total of 47 years. Since 1986, I've worked for myself having bought this location here in Auburn.
Do you have a favorite Quote or Motto you live by?
Asking for help is a sign of strength not weakness.