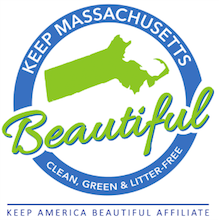 Earth Day 2021 is just a few weeks away (April 22nd), but who says we can't celebrate Earth Day all month long?! After all, early spring is an ideal time for litter cleanups, with cooler temperatures and less vegetation. Removing litter benefits humans, wildlife, water sources, and plants. While the COVID-19 pandemic makes it difficult to organize a wide-scale community event, you can still contribute to keeping your neighborhood litter-free; it's easy enough for anyone to do, and you'll feel great when you're done!
Keep Massachusetts Beautiful is a nonprofit organization focused on litter prevention & cleanup, waste reduction & recycling, beautification & community greening, and environmental education. Visit their website for additional info, and take the pledge to keep your community litter-free. You will receive a FREE Litter Cleanup Kit including:
– An EZ Grabber litter cleanup tool
– An official Mass Litter Cleanup Crew facemask
– An official Mass Litter Cleanup Crew safety t-shirt
– An official Mass Litter Cleanup Crew reusable bag
– A pair of high-quality gloves
– A Keep Massachusetts Beautiful car or refrigerator magnet
While these kits can be received at no cost to you, donations of any amount are accepted and appreciated to help offset expenses.
Simply incorporate litter cleanups into your daily walks, whether you're alone, with your dog, or with family. You will be joining hundreds of motivated environmental heroes who are making a positive impact in their communities!
Please visit: https://keepmassbeautiful.org/what-we-do/litter-prevention-cleanup/litter-cleanup-crew-pledge-sheet.html